Blue-white Buchholz – Sports centre barrier-free at the Holzweg
Blau-Weiss as the biggest sports club in Buchholz probably offers the widest range with its 43 different sport disciplines from aerobic to zumba. In the health area: from spine sports to yoga and from the "ambulatory heart group" to disabled sport. Furthermore, we have five different Asian combat sports like judo and karate, but also for example tennis, jazz dance, classical dance, gymnastics, Nordic Walking and parkour are available. Along with that we also offer chess and bridge as particularities.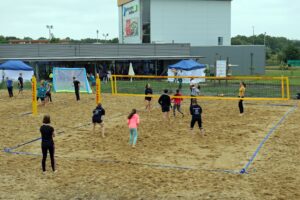 The property of the Blau-Weiss sports centre at the Holzweg is 25.000 square meters big and we have four ninepins alleys, diverse gymnastics and dance rooms, sport devices, a tennis and basketball area, a playground and a boules field.
A particularity is the climbing centre with 200 climbing routes on the inner and outer climbing walls. With its 17.5 m height it is also the biggest climbing attraction in Niedersachsen. Additionally, since the last two years, we have a bouldering hall, which means you can climb without a rope protection.
A further novelty on the Blau-Weiss property is an "integrative play and sports institution for humans with and without disabilities". 10 different sports and play devices are available free of charge as a "sportsroom for ALL" on a 6300 square meter area.
Sanitary facilities for disabled people and a nappy-changing room are other necessary features, which are available on the full barrier-free Blau-Weiss property.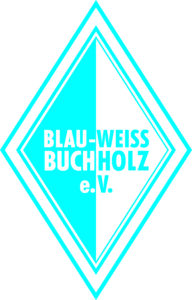 Contact-details:
Blau-Weiss Buchholz e.V.
Holzweg 6, 21244 Buchholz
phone: 04181-8942; Fax: 04181-97685
Mail: mail@blau-weiss-buchholz.de
Internet: www.blau-weiss-buchholz.de
Arno Reglitzky
Buchholz, February 2021
author: Arno Reglitzky
photo-infos: Blau-Weiss Buchholz e.V. Sportzentrum Barriere-frei am Holzweg (Arno Reglitzky)- Sportzentrum
BACK TO HOME