Typically, we are between 5 and 80 years old and happened to join the DLRG because we brought a child to the training to gain the seahorse swimming badge and then were hired as a helper; because it is family tradition to be in the DLRG or because friends invited us.
Our activities in the club are diverse:
Learn to become a lifeguard – train – competitions – becoming a swim teacher – guard duty in a pool or at the coast – snorkel – scuba diving – disaster control for civil protection – current- and chopper-based water rescue – youth task force – youth work – first aid training – paramedic training – board activity
You can experience this (among other things):
Shining eyes when someone succeeded to learn to swim; big events like for example Christmas feasts; championships; youth gatherings; community; trust; find friends – or your great love. And in emergency, you can even save lives.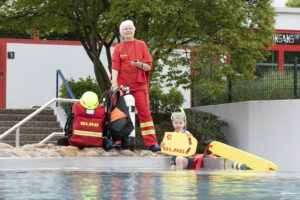 The fact that water is our element; we have learned here how to swim; want to do sports; like to help people; and give our contribution to the society are the reasons why we enjoy being and still are a member in the colourful DLRG.
Mor informations: https://buchholz.dlrg.de/
author: Gudrun Behrens, Tanja Hinrichs
photography: Nils Trabant
BACK TO HOME