In the context of the voluntary hospice movement, the Stationäre Hospiz Nordheide GmbH was founded in 2005 in Buchholz. In case there is little energy left for caring for people at their home, despite the help of care services and SAPV team (special ambulantory palliative care), it's helpful to know that the Stationäre Hospiz Nordheide gGmbH is existing.
The hospice guests are treated during their last period in life by an interdisciplinary and professional team. In this house, people live until they die.
In spring 2021, the stationary hospice is moving into a new building. "For me", says Sieglinde Winterstein, chairwoman of the ecumenical hospice service, "it's a great joy to witness that the idea of hospices, funded and supported by many people, is living in Buchholz in der Nordheide and is well positioned for the future".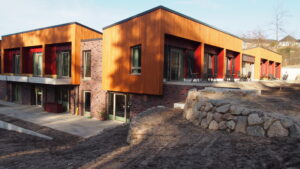 The Oekumenische Hospizdienst Buchholz e.V. (ecumenical hospice service Buchholz e.V.) exists in our city since 1995. Voluntary employees assist critically ill and dying people as well as the people in their close environment, at home, in nursing homes, hospitals and in the stationary hospice. Often, our voluntary employees are asked: "how can you cope with that?"
An intensive competence class as well as continuing education sensitise and strengthen thestaff in their activities: Be there, stand by, withstand, give time, conversing, being in silence, laughing or crying. And there is always a great response from the accompanied people.
Mourning people have the possibility to participate in an open mourning group in the Paulushalle every 14 days or every third Sunday afternoon in a mourning meeting from the ecumenical hospice service.
Traudich – Treffpunkt für trauernde Kinder (You dare – Meeting for mourning children) is an association for children with hard misfortunes, when a parent or a close relative has died. Children and youth are exchanging, accompanied by voluntary workers. They talk, memorise, play and pursue their creativity. This helps a lot as the conversation in the own family, who is mourning, or with friends is often difficult. In two groups (6 – 11 years and from 11 years onwards), the participants meet every 14 days on a Wednesday afternoon in the Buchholzer Kaleidoskop.
The accompanying persons can talk about their (mourning) experiences during a coffee and tea in a neighbouring room. "At the beginning, we thought this would only be a "Klönrunde" (a meeting of people who want to preserve the old German language "Plattdeutsch"), but meanwhile this is a very intense and personal exchange about the personal feelings and questions", says Wilfried Bolte, the association's chairman. For the children, it is a significant exchange. "I've been participating at the group meetings for two years now. I wasn't well for a long time. Due to that, I needed someone, who helped me. My father and me then got to know about "Traudich" and I realised that I can process much better in my group. I think everyone has a core issue that she/he cannot overcome. Something is stuck inside. In this group we can relax and focus on the good that we had with the decedents…", explains the 16 year old Pat from the youth group.
author: Wilfried Bolte
photo-info: Wilfried Bolte
BACK TO HOME